Coupons & Discounts
Let Us Help You Save On Our Services
Everyone loves clean windows, siding, and clog-free gutters. However, at My Window Washing, we understand that giving your house a facelift can be expensive and time-consuming. From buying cleaning supplies and tools to trying to find time to clean your windows or trying to figure out how to reach your gutters, costs quickly stack up, and the list of things to get done seems to be never-ending. This is where My Window Washing steps in to help out! Our window cleaning service helps you stick to your budget by offering window washing, gutter cleaning, and power washing coupons. We have great deals for Chicago, IL residents, and surrounding suburbs.
---
Window Cleaning Coupons
Our window washing coupons offer you $10 off your next window wash when you use My Window Washing. Our window washing professionals have years of experience and can make sure the job gets done right. We understand that you've got enough on your plate, so let the pros at it! We offer this discount because we value our customers; we don't use acid-based chemicals on your windows and we will move your furniture and remove window screens as needed to protect your things and help let us do what we do best. Don't let our window washing coupons fly out the window.
click coupon to print
---
Gutter Cleaning Coupons
Our gutter cleaning coupon offers you $10 off your next gutter cleaning service. If you suspect your gutters are filled with leaves or your downspouts clogged, it shouldn't mean your only options are to break the bank or ignore it altogether. Our gutter cleaning coupon will help you save some money on this important home maintenance task. From clearing debris to guard installation, our team of professionals knows exactly what will be best for your home. Don't let our gutter cleaning coupons get washed away in the rain! Schedule your appointment online or call us to talk to our friendly staff.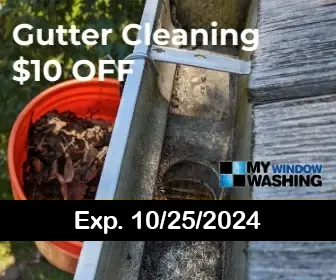 click coupon to print
---
Power Washing Coupons
Our power washing coupons offer you $20 off your next service when using My Window Washing and Gutter Cleaning services. Our professionally-trained technicians can make your home siding or back deck surface look brand new. Besides siding and decks, we also clean concrete driveways, patios, landscaping pavers and stones, outdoor furniture, and more. We also provide soft-wash services to clean roofs, cedar siding, and stucco safely. So don't wait; give your house a facelift with our pressure cleaning services.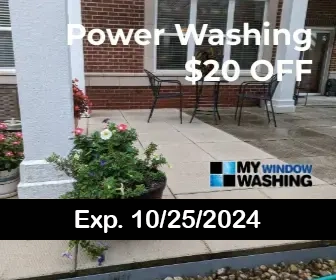 click coupon to print
---
My Window Washing & Gutter Cleaning Service Areas
We serve Chicago, IL, and the surrounding suburbs. If you live in one of the counties listed below, that means you are in our service area.
Cook County, IL
Lake County, IL
DuPage County, IL
Will County, IL
McHenry County, IL
Our home window cleaning experts deliver more than just the bare minimum; we offer our power washing, gutter cleaning, and window washing coupons with budget-conscious customers in mind. Boosting your home's curb appeal doesn't require deep pockets. Contact MyWindow Washing to learn more about our services and how you can save time, money, and headaches by letting our trained professionals take over.
Contact Us
Your opinion matters
Please fill out contact form to send us your thoughts, suggestions, critique or to schedule an appointment or an estimate.
...