Commercial Solar Panel Cleaning Pros
Residential and Commercial Panel Cleaning
Solar panels are the cutting edge of sustainability and cutting energy costs. However, to ensure your solar energy system absorbs as much sunlight as possible it needs regular maintenance. This includes routine solar panel cleaning!
Whether you're a business owner, property manager, or homeowner in the Chicago area, then you already know how important it is to avoid dirty solar panels. A combination of our changeable weather as well as diverse insect and animal life in our beautiful area can quickly leave panels in desperate need of a thorough cleaning.
That's where My Window Washing comes in.
Our team of trained professionals specializes in solar panel cleaning services, using the latest tools and techniques to ensure your solar system is crystal-clear and dirt-free. We are one of the only company's in the area with the expertise and professional training to keep your home's solar panels running at top efficiency.
Whether the panels installed are located on the roof or the ground, we have the tools and training to rid them of every spec of dirt, dust, debris, and build up that's blocking the light and reducing your electricity output.
Let in the Sunlight with Professional Solar Panel Cleaning in Chicago
With years of experience serving homeowners and companies throughout Chicago and the surrounding suburbs. We've built a reputation as cleaning professionals that you can count on.
Don't let dirt, dust, and debris on your solar panels detract from your home's or business's available electricity—contact My Window Washing today to see how we can help keep your panels clean.
---
For more window cleaning videos, visit our video channel on YouTube.
Solar Panel Maintenance Benefits Many Industries, Including:
Retail businesses: Having clean panels can help capture the sunlight on commercial roofs for huge energy savings.
Hospitality and tourism: Solar energy is impressive and visitors will enjoy their trip more knowing their choices are sustainable.
Healthcare facilities: Solar panels are ideal support energy systems to make hospitals safer and less of an energy drain.
Office buildings: Regular maintenance to remove dust and dirt from the surface of office building panels make one of the biggest drains on the grid that much more sustainable.
Educational institutions: Maintaining a dust and dirt free surface on a ground or roof solar panel at a school or college is an amazing learning opportunity for technology-bound students.
---
Top Rated Commercial Window Washers in Chicago Area
1 / 5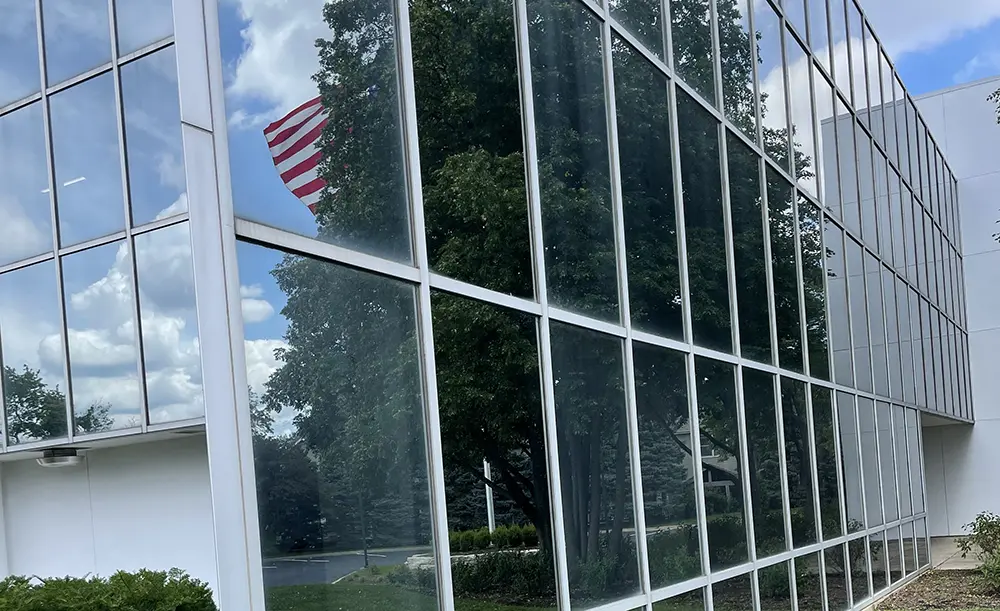 Clean Windows vs. Dirty Windows
2 / 5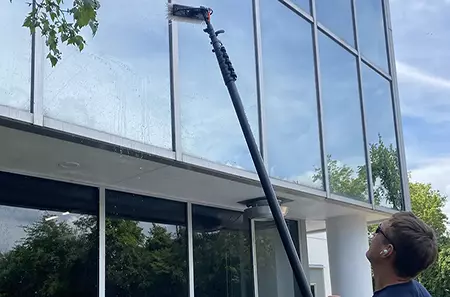 Window Cleaning with Water Fed Pole
3 / 5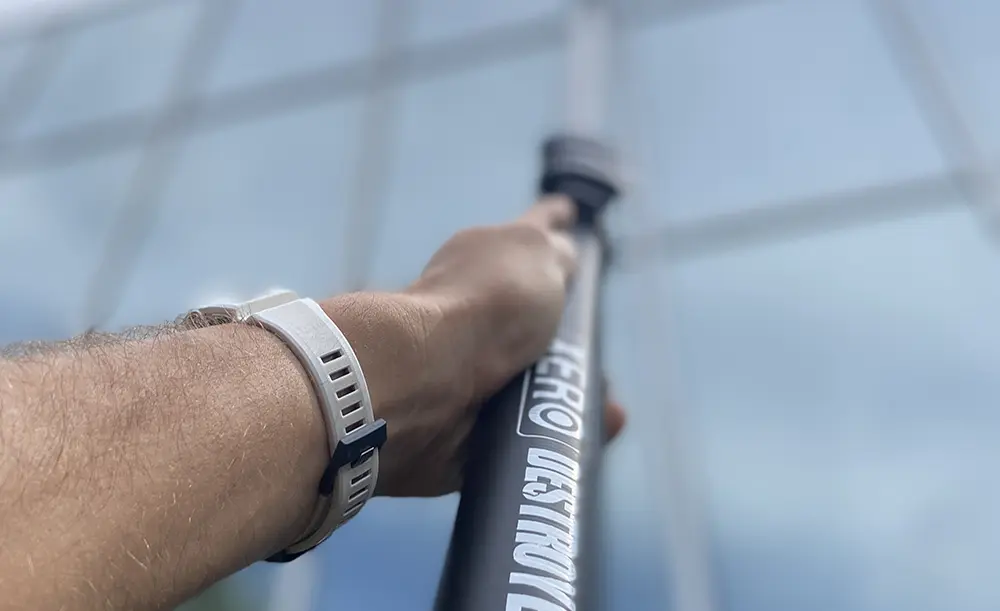 Water Fed Window Cleaning Systems
4 / 5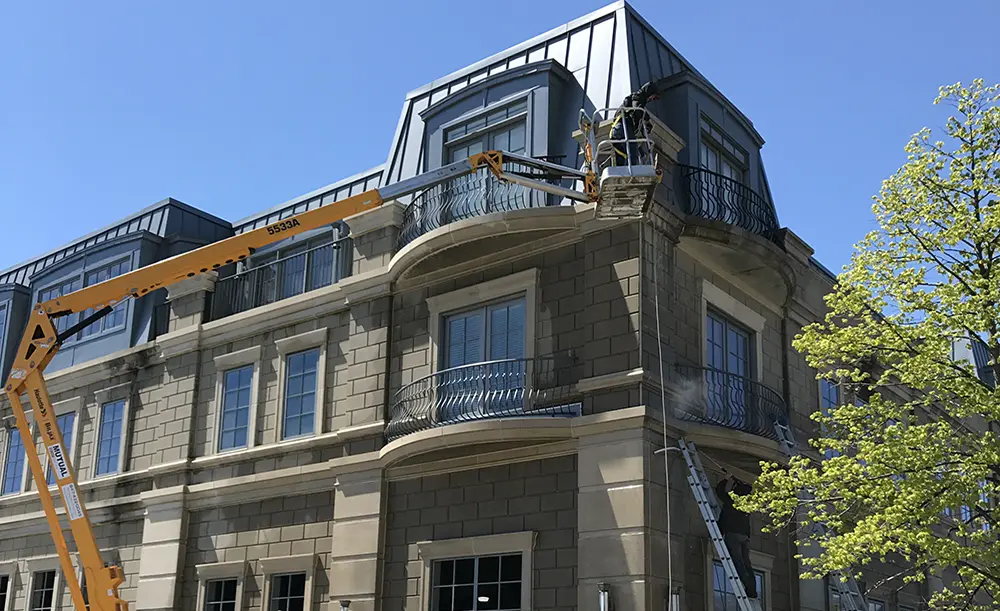 Boom Lift Sometimes Needed To Reach High-up Windows
5 / 5
My Window Washing Truck
Contact Form
Your opinion matters
Please fill out contact form to send us your thoughts, suggestions, critique or to schedule a window cleaning appointment.
---
Our Guarantee
We are confident you will be pleased with our solar panel cleaning in Chicago.
However, if you are not completely satisfied, call us within seven days of the service date, and we will either rectify the issue or refund your money.
Whether you need help with your solar panels on a residential roof or commercial property, you can count on My Window Washing for streak-free service.
When you hire us to make your glass shine, the following is guaranteed:
Fully insured and licensed
Professional and polite washers
Fair and upfront pricing
No mess inside or out
No job too big or too small
All equipment supplied
---
Solar Panels Restored to Max Energy Output in No Time
Whether you're like most homeowners looking to get optimize the power from your investment, or a property manager that relies on steady energy production for you business' electricity needs, we have you covered. If you are interested in enhancing the power of your pv systems, we urge you to call us today to schedule a free solar panel cleaning quote.
Our team of experts will thoroughly inspect your panels and provide a detailed estimate of our services based on your unique requirements. We'll carefully inspect your solar panels for dust, dirt, bird droppings,
Clean Solar Panels Without the Stress
At My Window Washing, we pride ourselves on delivering exceptional customer service and ensuring a hassle-free experience for our clients.
Our team is fully licensed and insured, and we adhere to the highest safety precautions to ensure you, your family's, or your employees' safety. What's more we go beyond the DIY solution of clean water, soapy water, and a garden hose; we use professional-grade tools and supplies without the harsh chemicals to restore you panels efficiency.
Regular Cleaning Makes for Efficient Solar Panels
By choosing our professional services, you can rest assured that you will receive top-notch services that exceed your expectations. What's more for those deeper involved in the solar industry we are happy to offer regular cleaning services of extra cleaning for that hard to tackle build up of dust, dirt, and muddy residue.
So, what are you waiting for? Contact us today to schedule your free clean solar panel quote, and let us return your solar system to peak performance and maximum energy production!
---
Frequently Asked Questions
If you're a homeowner or business owner who has invested in solar panels, you know the importance of keeping them working at peak efficiency. That's where a solar panel cleaning service comes in.
With regular cleanings, you can extend the life of your solar panels and maximize your panel efficiency by a significant amount.
The answer depends on a variety of factors, including your location, climate, and the amount of dust and debris in the surrounding environment. Heavy rain, bird droppings, and other natural build up on the glass surface may require more frequent cleaning.
The short answer is, most experts recommend cleaning your solar panels at least once or twice a year to retain optimal power efficiency.
While it may be tempting to try to clean your dirty panels on your own, working with a professional can actually provide many benefits.
Not only will they have the proper tools and equipment to do the job right, like a profession grade pressure washer, but they'll also be able to spot potential problems with your panels before they become major power issues as well as give you panels the extra attention they deserve.
The cost of cleaning solar panels varies depending on different factors, such as the size of the solar panels, geographical location, presence of bird droppings or other debris, and the extent of cleaning needed.
Nonetheless, professionals cleaning solar panels on your property is an investment in your solar system's longevity, power efficiency, and cost savings.