Solar Panel Cleaning
Residential and Commercial Solar Panel Cleaning
Solar panels are the cutting edge of sustainability in cutting energy costs. However, it needs regular maintenance to ensure your solar energy system absorbs as much sunlight as possible. This includes routine solar panel cleaning!
Whether you're a business owner, property manager, or homeowner in the Chicago area, you already know how important it is to avoid dirty solar panels. A combination of our changeable weather and diverse insect and animal life in the Chicago area can quickly leave solar panels in desperate need of a thorough cleaning.
That's Where My Window Washing Solar Panel Cleaning Company Comes In
Our teams of trained professionals specialize in solar panel cleaning services, using the right tools and techniques to ensure your solar system is crystal-clear and dirt-free. We are one of the only companies in the area with the expertise and professional training to keep your home's solar panels running efficiently.
Whether the panels installed are located on the roof or the ground, we have the tools and training to rid them of every spec of dirt, dust, debris, and buildup blocking the light and reducing your electricity output.
---
Maximize Energy Output With Professional Solar Panel Cleaning In Chicago
With years of experience serving homeowners and companies throughout Chicago and the surrounding suburbs. We've built a reputation as cleaning professionals that you can count on.
Don't let dirt, dust, and debris on your solar panels detract from your home's or business's available electricity—contact My Window Washing today to see how we can help keep your panels clean.
---
Costs of Solar Panel Cleaning
| # of Panels | Base Cost | + cost for each additional panel |
| --- | --- | --- |
| 1-10 | $150 | for the first 10 panels |
| 11-15 | $150 | +$12 each additional panel over 10 |
| 16-20 | $210 | +$10 each additional panel over 15 |
| 20+ | $260 | +$8 each additional panel over 20 |
Solar panel cleaning costs in the above table reflect residential services only. Please contact us to schedule a FREE on-site estimate for a commercial solar panel cleaning.
---
Top Rated Solar Panel Cleaners in Chicago Area
1 / 5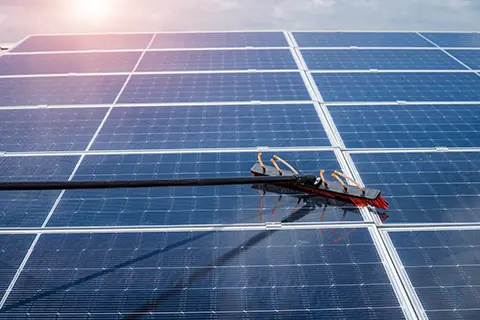 Clean Solar Panels
2 / 5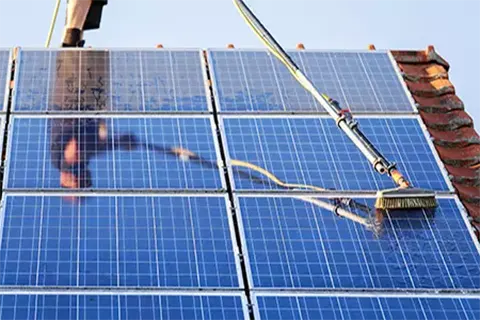 Residential Solar Panel Cleaning
3 / 5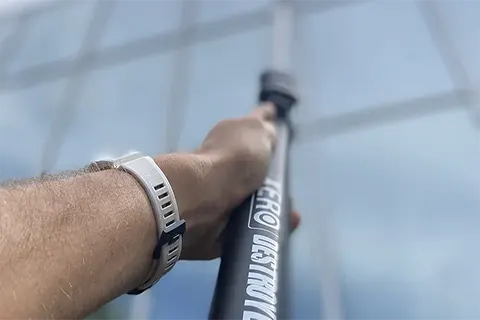 Water Fed Poles for Panel Cleaning
4 / 5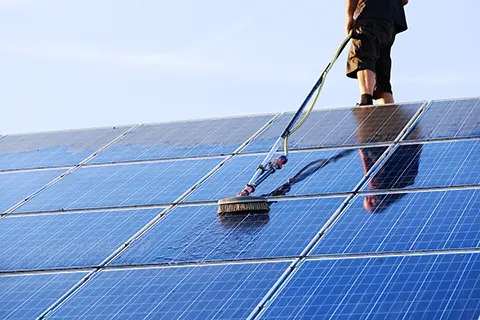 Increase Energy Production by Up To 30%
5 / 5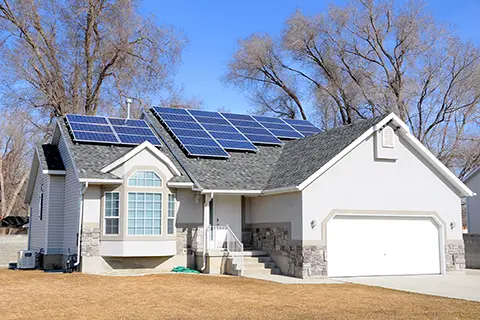 Roof Top Solar Panels
Invest in the longevity of your solar panels by scheduling professional cleaning services twice a year. Not only is it a recommended practice, but it's also often stipulated in many solar panel warranty terms. Make cleaning a part of your annual panel maintenance plan and ensure maximum efficiency and performance for your investment. Don't let dirt and debris get in the way of your clean energy goals.
---
Frequently Asked Questions
If you're a homeowner or business owner who has invested in solar panels, you know the importance of keeping them working at peak efficiency. That's where a solar panel cleaning service comes in. With regular cleanings, you can extend the life of your solar panels and maximize your panel efficiency by a significant amount.
The answer depends on a variety of factors, including your location, climate, and the amount of dust and debris in the surrounding environment. Heavy rain, bird droppings, and other natural build up on the glass surface may require more frequent cleaning.
The short answer is, most experts recommend cleaning your solar panels at least once or twice a year to retain optimal power efficiency.
While it may be tempting to try to clean your dirty panels on your own, working with a professional can actually provide many benefits.
Not only will they have the proper tools and equipment to do the job right, but you won't have to risk your life trying to get on your roof to reach your solar panels.
We worked out a very simple solar panel cleaning cost estimator that you can find here on this page. And you can always call us for a FREE estimate.