Ice Dam Removal
#1 Ice Dam Removal in Chicago
Ice dams are a common problem during the winter months, and they can cause serious damage to your home if left untreated. Fortunately, My Window Washing company is here to help with effective ice dam removal and de-icing services.
With our many years of experience in the ice removal industry, we have developed expertise in safely removing these icy buildups from roofs and preventing further damage to your home. Our team is highly trained in ice dam removal techniques, using specialized equipment to remove ice quickly and safely.
Whether you are dealing with a small ice build-up or a large ice dam that threatens the structural integrity of your roof, we have the tools and skills necessary to get the job done right. So if you're facing an ice dam this winter, don't hesitate to give us a call and let us help you protect your house.
---
I Like Icicles, So Why Should I Worry About Ice On My Roof?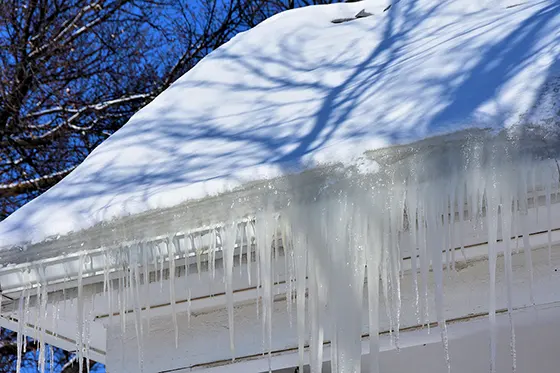 An ice dam on the roof can be incredibly damaging to your home, and it is important to understand why. An ice dam is a ridge of ice that forms at the roof's edge, usually when the snow melts due to warm temperatures and poor insulation. As the melted water runs down the roof, it reaches colder temperatures as it moves towards the edge, where it then freezes creating ice damming. Over time, this builds into a thick layer of ice along the roof's edge. This can cause significant damage as the dam holds back water and traps moisture inside and underneath your shingles. As this trapped moisture melts and refreezes, it can slowly seep into your attic or walls, causing serious issues such as rot or mold growth. Ice dams can also cause other problems like damage to gutters from extreme pressure from ice buildup or even ripped-off shingles from heavy chunks of ice sliding down from above. It's important to take preventative measures against ice dams on the roof, such as by increasing attic floor insulation, properly sealing air leaks around chimneys and vents, and having a good ventilation system in place that allows for proper airflow throughout your roof during cold months to keep snow from melting prematurely. These steps can help ensure your roof stays in top condition and protect you from costly repairs due to ice dams.
Did you know? You can book your ice dam removal right from this webpage. Just click BOOK ONLINE button and choose a date for your FREE ice dam removal quote.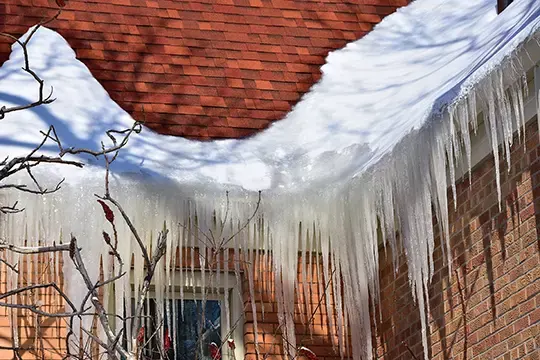 ---
Contact Form
Your opinion maters
Use this form to schedule ice dam removal, ask questions, or share your thoughts about our service. We are always glad to hear from our customers and usually respond within 24 hours.
---
Ice Dam Removal Process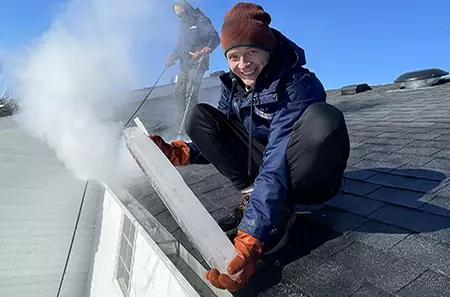 Assessment and Free Estimate: Our technicians will evaluate the scope of work required to safely remove the ice dam on the roof and will provide you with a free estimate.
Prepare Your Home: Once you approve the estimate, we will prepare your home for deicing. Our team will clear the area, cover your plants as needed, and set-up our ice-melting equipment.
Ice dam removal: After everything is ready, we will remove ice damming accumulation from your roof. We use an industrial hot water steam machine to melt the ice and snow.
Inspection and Advice: Lastly, we will inspect your roof and gutters for any damage caused suggest ice dam prevention on the roof in the future.
---
CHICAGO'S ICE DAM REMOVAL SERVICES YOU CAN COUNT ON
Looking for reliable ice dam prevention and removal experts? My Window Washing has served homeowners in Chicago and its suburbs for over 20 years. Trust our skilled technicians to handle all your roofing ice dam concerns - from preventing them in the first place to safely removing existing ones. We work on all types of homes and commercial properties, so you can rest assured we'll be able to help you too. Contact us today, and let's get started.
Service Area
Chicago, IL
Cook County, IL
Lake County, IL
DuPage County, IL
Will County, IL
McHenry County, IL
---
Frequently Asked Questions
An ice dam is a buildup of frozen water that forms along the edge of a roof, preventing melting snow from draining properly. This can cause the water to seep under shingles and into insulation, leading to water damage and mold growth.
One way to tell if your house has an ice dam is by looking for icicles hanging from your gutters or roof edge. Another sign is the presence of water stains or leaks in your ceiling or walls. Additionally, if you notice large chunks of ice on your roof or hear cracking sounds, it is important to take action immediately.
If left untreated, this can result in water seeping through the roof and causing water damage to your home's interior leading to the growth of mold and mildew, which can be harmful to your health.
The cost to have a professional remove an ice dam typically starts at around $500 and increases from there. The price varies based on the size of your roof, the extent of the damage, and the location of your property.
Latest Blog Posts
Discover more information on ice dams on our blog! Get insights on how they form and learn expert tips on how to prevent them. And that's not all. Our blog is loaded with valuable resources and topics designed to help you maintain your property. Check it out now!