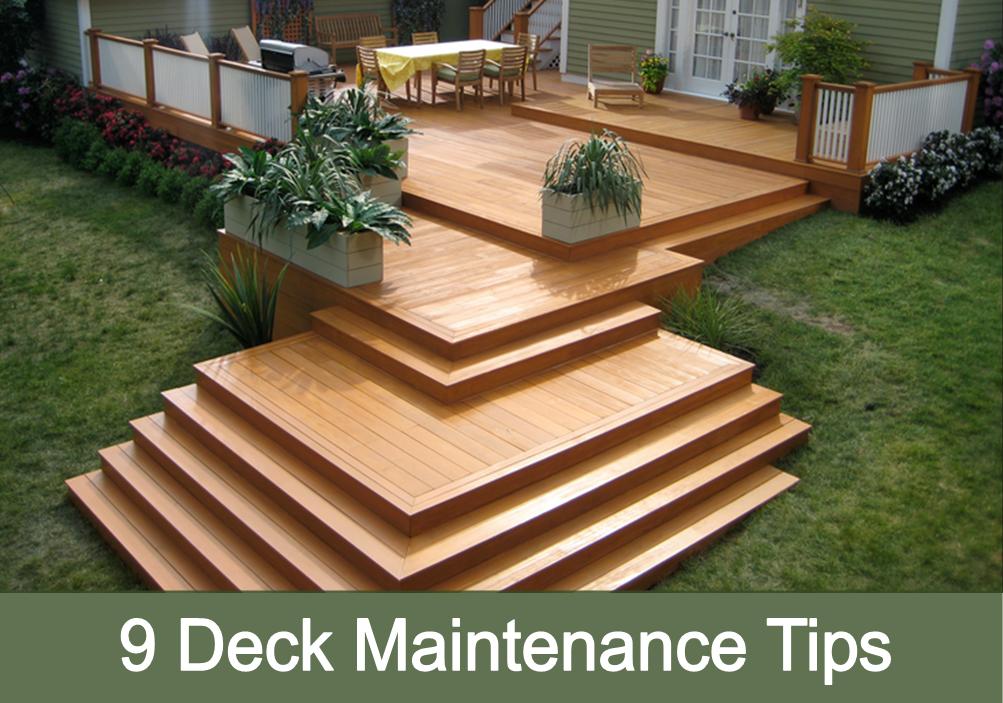 9 Deck Maintenance Tips
All decks regardless if it's made of wood, composites or any material will eventually show wear and tear. is bound to start showing some wear and tear over time. They're daily exposed to harsh weather elements including temperature flux, UV rays, heat, snow, rain, wind and more. Fortunately, there are many things deck owners can do and avoid to protect and extend the life of their deck.
Clear, Clean & Wash Deck
Before making any deck inspections or repairs clear, clean and wash your deck. The most effective way to do this is via a pressure washer and allow it to dry overnight. It is extremely important to correctly use the pressure washer, otherwise it may cause damage.
Inspect Your Deck
Savvy homeowners regularly conduct deck inspections, at least twice a year. Walk around the deck and check for splintered or soft areas, any loose/missing fastens or nails, split or rotten wood. Also inspect to ensure your deck is properly sealed against winter elements. Immediately address any safety related issues and begin making the additional repairs, including replacing any rotting boards.
Regularly Sweep
Water is the most common cause of deck deterioration. Moisture often causes wood to expend and contract when it dries. This may lead to lose or popped out fasteners, warped bards, splits and cracks. Moreover, an often wet deck can create ideal conditions for bacteria and fungus growth which can precipitate rotting wood. An easy way to limit/prevent water damage is to regularly sweep your deck and keep it free of dirt, leaves, puddle water and snow.
Never Use Chlorine Bleach
Chlorine bleach will damage the woods structure and strip its color and damaging its cellular structure.
Seal to Protect
Sealing a deck protects it from cupping, cracking and warping. A clear sealer lasts a very long time. If you use a color tinted stain or sealant it may face quickly if exposed to lots of foot traffic. Some experts recommend having your deck professionally cleaned and sealed at least every three years to protect it against weather elements.
Sand Before Sealing
Following a complete cleaning and proper pressure washing (and drying) of the deck, it is important to sand your deck before sealing it.
Never Use Paint
Never use paint as a sealant. It doesn't offer the same protection. Also, while the fresh coat of paint might seem appealing at first, it will soon look extremely distressed, making your deck look less than pristine. The same thing can be said about solid stains, which will eventually peel and require a lot of maintenance. In order to switch to proper deck sealant, the paint will need to be removed with stripper or sander. It's best to save time and money by using a good sealant from the start.
Avoid Grill Grease
It is very difficult to remove grease stains on wood. Make sure to use a grease catcher to limit/prevent any mishap.
Pressure/Power Washing
Pressure washing is the best way to clean a deck. However, it is very important to do it correctly; otherwise it may unwittingly cause damage. To ensure a professional job, some home owners hire an experienced pressure washing company such as My Window Washing.