A wooden deck adds beauty and value to your home, and it's a great way to enjoy some outdoor entertaining. When it comes to good maintenance and care, it's important to practice a few proper deck cleaning methods.
Before you head outside to hose down your deck, read this helpful guide so you know more about the best ways to keep your wooden decking beautiful and squeaky clean.
Prep the Surface
When you're ready to do a little deck cleaning, it's crucial that the deck is free of any excess debris. The finish on your wooden decking will break down over time and from exposure to the elements.
Annual cleaning and an application of sealer will keep it looking good as new. Before you start the process, you need to eliminate mold and mildew that can cause your deck to rot.
Remove all furniture and pots off the deck, then sweep it thoroughly. If there's anything stuck between the slats of your deck, use a putty knife or screwdriver to remove it, then sweep it away.
After all the debris is gone, it's time for quick washing. If you have an attachable jet wand, use that to rinse your deck thoroughly.
Make sure that the flow of water is strong enough to wash all of the dirt and debris completely off the surface of your deck. Just make sure it's not too strong, or else it could damage the wooden boards.
Deck Cleaning Methods
You can clean your deck a number of ways, but store-bought deck cleaning products are ideal. Read the directions thoroughly to find out if the product you choose requires your deck to be wet before applying the cleaning solution.
It's best to wash down your deck on cloudy days so the sun won't evaporate the cleaner and the water. As you apply the cleaning solution, use a paint roller, a large brush, or a stiff-bristled broom to work the cleaner into the wood.
Let the mixture of cleaning solution and water sit on the surface of your deck for the allotted time frame per the instructions. Don't let the cleaning solution pool or it could cause discoloration.
Once you're ready to rinse, start the process from the bottom, working your way up as you spray the rails with clean water. After you're done rinsing it clean, let your deck dry for at least two days before you apply any sealer.
You can rinse the deck using a hose with a nozzle sprayer to get better coverage. Take your time and use sweeping motions until the entire deck is rinsed clean and no more cleaning solution is visible.
If you prefer, you can use a power washer to clean your deck, but just be sure it's dialed to the appropriate setting. If the setting is too powerful, it can cause serious damage to the finish of the wood.
Sealing Your Deck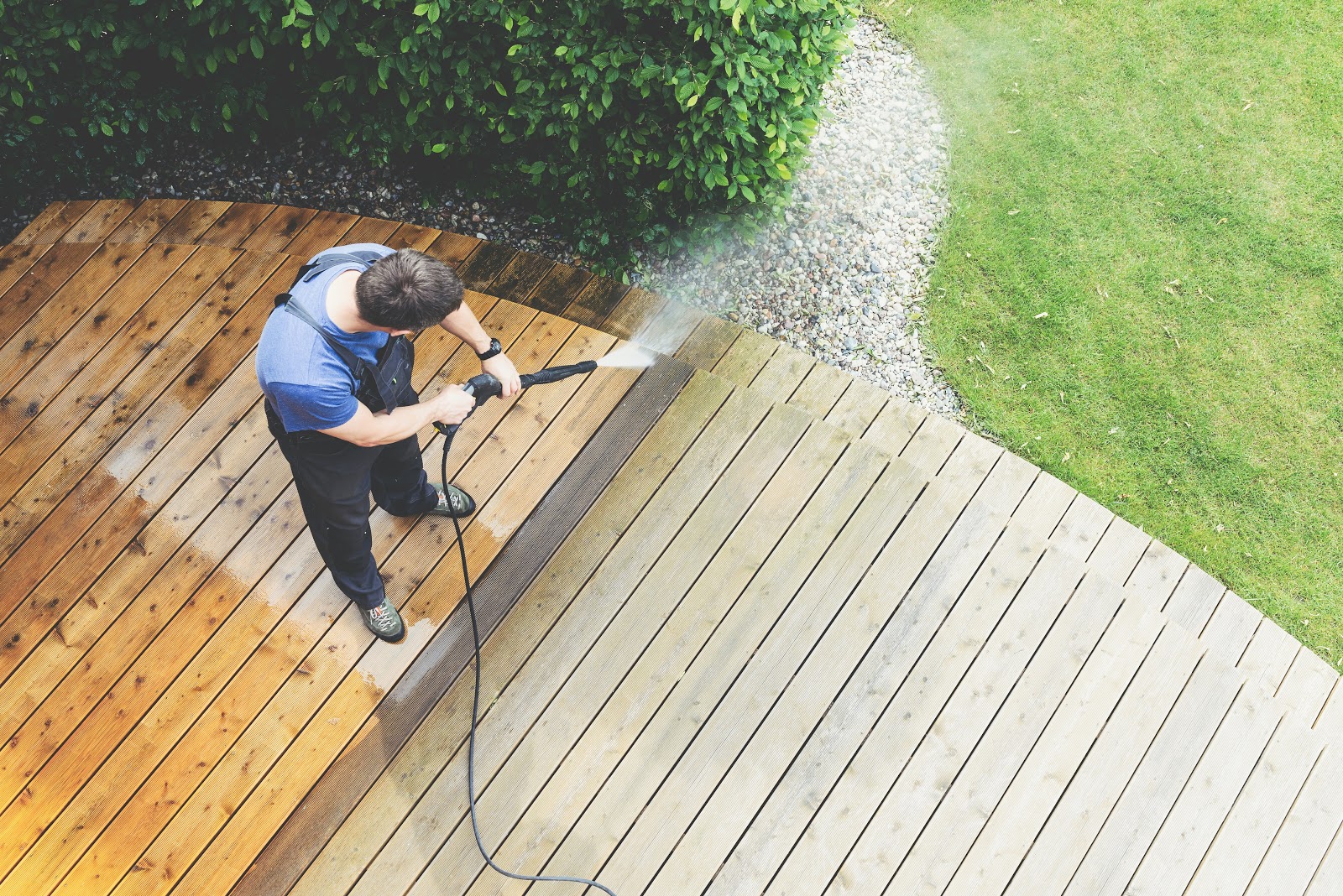 To truly practice proper deck cleaning, you should seal your wooden deck at least once every two to three years. Adding sealant will keep the deck looking new and protect it against serious damage like mold or water penetration.
You can find deck sealing products at most home improvement stores and they come in a range of different finishes. A clear sealer will let the natural wood grain show through, while sealants with stains give your deck a fresh touch of color.
The type of sealant you select is entirely up to you, but it's important to make sure that it matches your current deck's color and style as closely as possible. If you want to change the color of your deck completely, go with a sealant that includes an opaque stain.
When you're ready to apply the sealer, wear gloves, eye protection, and a mask to stay safe. Pick a period of two days when you will have clear skies and reasonably moderate temperatures that aren't too extreme.
Start by sanding your deck with 80-grit sandpaper. Look for any protruding nails or screws and replace them as needed. If a nail is only sticking out a little bit, you can hammer it back into place.
Applying Sealer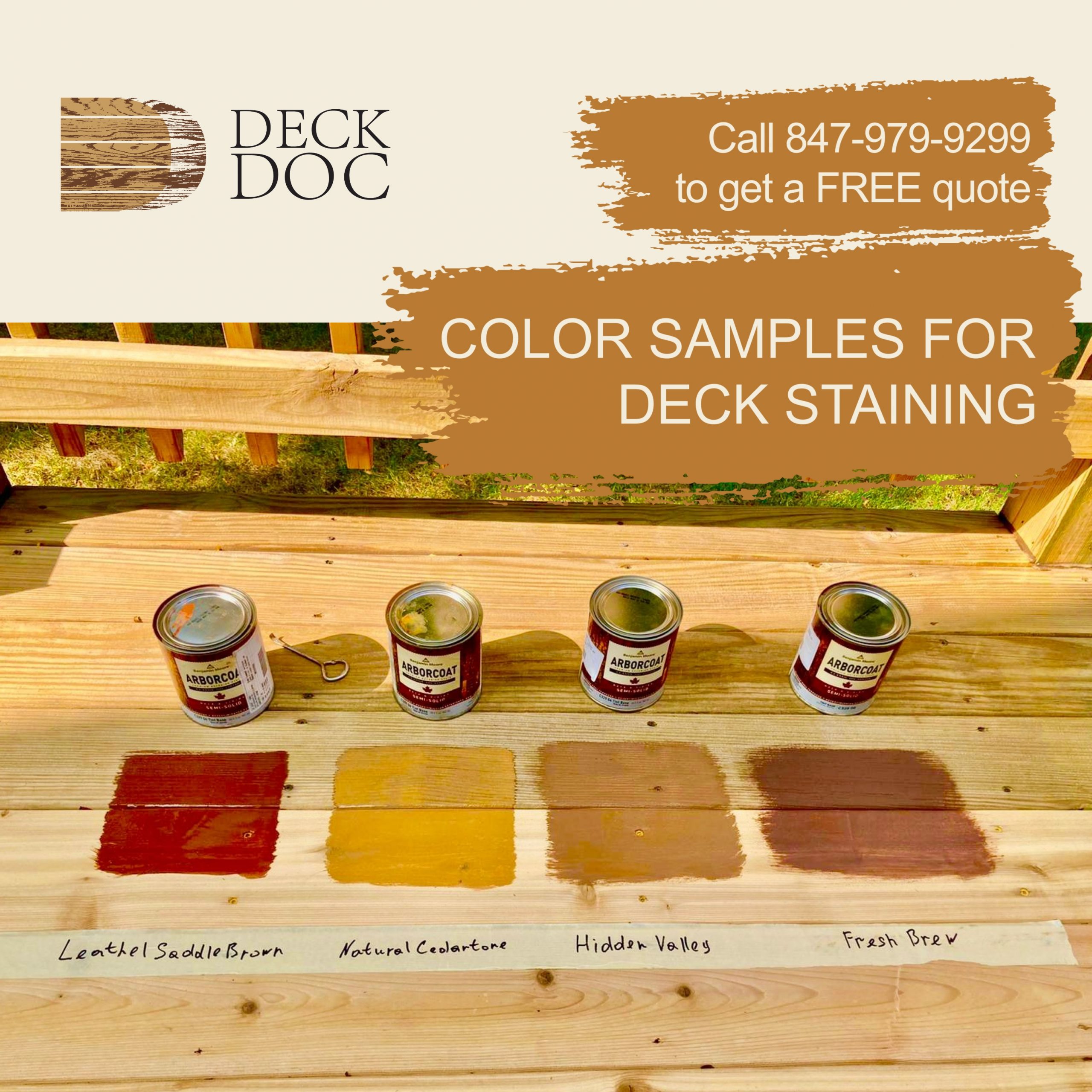 You should apply your sealer or stain using a paint roller. Cover three to four boards at a time as you go. When you stain or seal the railings, use a smaller roller to get into cracks and crevices.
As you apply the sealer, make sure it does not puddle or dry out. Attempt to apply two thin coats rather than one thick coat for the best application.
Keep an eye on your deck throughout the year and try to keep it free of any debris and dirt. With regular sweeping and a quick wash-down, you can keep a wooden deck clean without too much effort.
Stain or seal your deck every few years to keep it in great shape and looking its best. Always follow directions carefully on any deck cleaning and deck sealing products.
A Clean Deck is a Happy Deck
With a few simple deck cleaning practices, you can ensure that your wooden deck will stand the test of time. Keep it free of debris and mold, and wash it regularly for best results.
Apply a stain or sealer every few years to maintain and preserve the beauty of the wood. Regular maintenance will keep your wooden deck in great shape as time goes by.
For all your window washing, power washing, and gutter cleaning needs, contact us today.