Gutter Cleaning
Professional Gutter Cleaning
Clogged gutters and downspouts are a major concern for every homeowner. Backed-up house gutters will cause severe and costly problems, such as a flooded basement, water leaking into the walls, ruined landscaping, mold, and mildew. Timely gutter cleaning can minimize and eliminate most of these issues. Moreover, gutter cleaning costs are far lower than water damage repair caused by overflowing gutters.
Everyone knows the best time to call a gutter cleaning company is in the fall. While that is true, and fall is the most important season for gutter cleaning, let's not forget to keep an eye on your gutters throughout the year. Inspect your gutters after every major storm, and look for signs of overflowing gutters and blocked downspouts. Contact your local gutter cleaners if you notice any indications of clogged gutters...

At My Window Washing, we recommend cleaning gutters at least twice a year, in late fall and spring. As we mentioned before, fall is the most critical time for gutter cleaning, but we strongly advise having your gutters cleaned in the late spring, around mid-June. That is the time after spring storms deposit tons of debris on your roof and trees drop their blossoms, most of which end up in your gutters.

So do not hesitate to call us today for a pro gutter cleaning service if you think you have a clogged gutter or downspout. Our professional gutter cleaners come prepared with the right tools and knowledge to do a thorough job. To find My Window Washing and Gutter Cleaning, just google "gutter cleaning near me" and look for the best-rated gutter cleaning company.

Most homeowners ask us why My Window Washing And Gutter Cleaning is the most trusted gutter cleaning service in Chicago and its suburbs. And why they should trust us with their gutter system. And the answer is; that we are the largest locally-owned gutter cleaning company, we guarantee our work, and we respect our customers and their properties.

Our gutter cleaning services are available to individuals, families, and businesses in or near Chicago; we serve Lake County, Cook County, DuPage County, Will County, and other communities in Illinois.
---
Gutter Cleaning Service Prices
| House Size | 1 story | 2 story | 3 story |
| --- | --- | --- | --- |
| < 2000 sqf | $100 | $150 | $200 |
| 2001 to 3000 sqf | $125 | $150 | $200 |
| 3001 to 4000 sqf | $150 | $200 | $250 |
| 4001 to 5000 sqf | $175 | $225 | $300 |
| 5001 to 6000 sqf | $200 | $250 | $350 |
| 6001 sqf or larger | | Call for price | |
| Gutters With Guards | | extra depending on sqft | |
---
Any ranch or raised ranch is considered a one story house
Split level homes are considered two story
Detached garage gutters or roof cleaning $25 to $75 depending on size
We can clean the exterior of the gutters for an additional fee
If your gutters have gutter guards installed over them, we will charge an extra fee to clean them, depending on the square footage of the house.
---
Gutter Cleaning Process
As a leading local gutter cleaning service, our job is to remove leaves and other debris from the gutters either by hand or using a leaf blower, when conditions allow, or per customer request. Everything is placed in a garbage bags and taken away from the premises. Then we check gutter downspouts for potential clogs and clean them out as necessary. A technician will also check for issues with the gutters as he's cleaning them and report to the homeowner if any issues are found.
Contact Us
---
What Our Customers Are Saying
Contact Form
Your opinion maters
Please fill out contact form to send us your thoughts, suggestions, critique or to schedule an appointment or an estimate.
Gutter Guard Installation
If you live in a wooded area or have large trees surrounding your house, consider installing gutter guards as protection instead of cleaning your gutters and downspouts every other month. Below are some pictures of gutter guards that we recommend and install for our customers. In more than twenty years of installing gutter guards, we find that these guards perform better, are easy to maintain, and cost much less to install than similar products.
---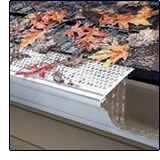 Plastic Guards with Mesh
Our recommended product keeps leaves and debris out of gutters. It is made of a high-quality, rigid PVC and fits any K-style aluminum, steel or plastic gutters. This snap-in gutter guard has a mesh filter bonded to the plastic. The filter is designed to keep smallest debris out of the gutter, helping to eliminate clogs. Also, it will not collapse under debris. This guard installs by snapping on to front edge of the gutter and comes in two different colors, dark brown and white.
Price installed: $5.00/linear foot
---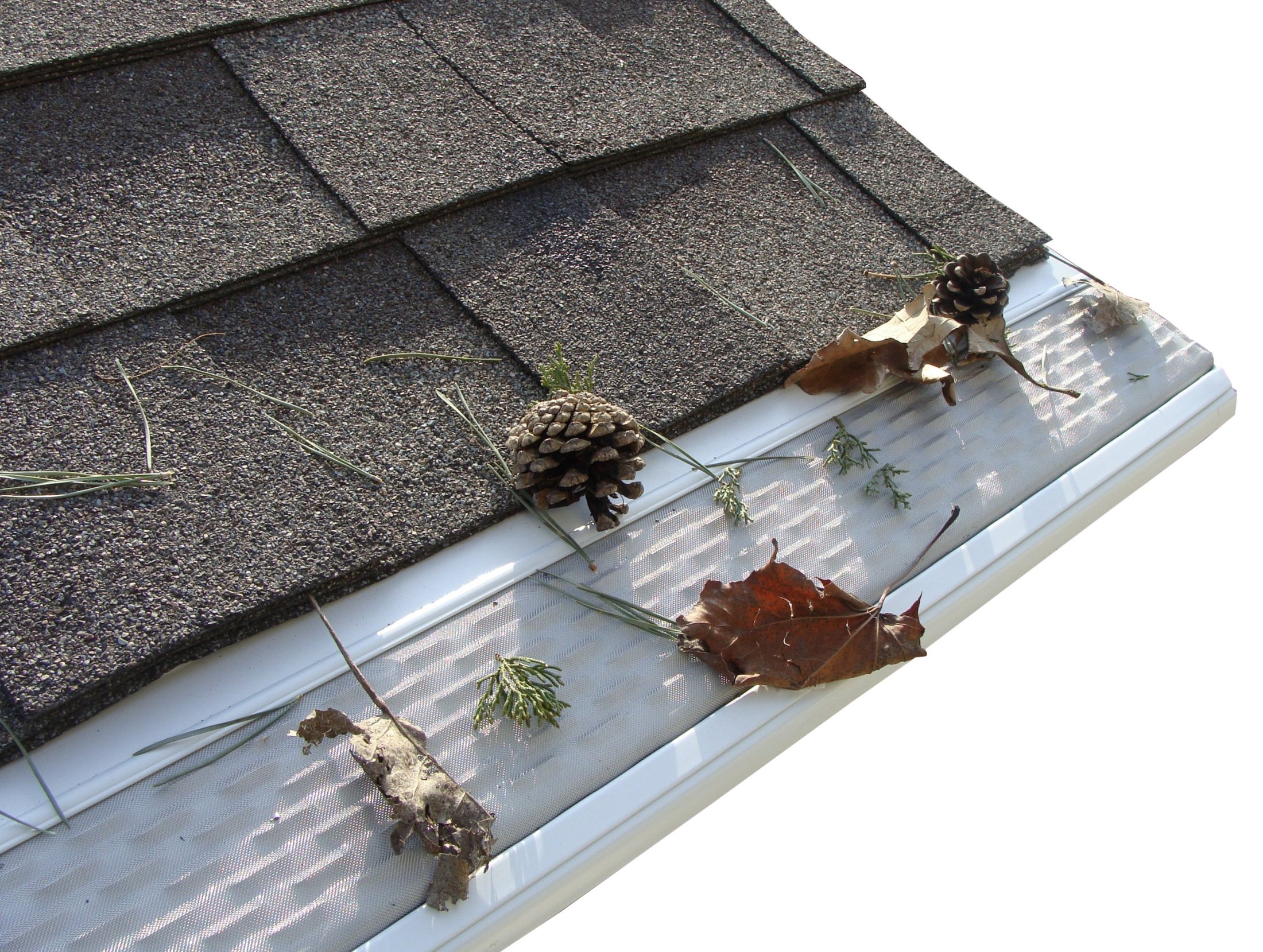 Aluminum Micro Mesh Gutter Guards
The MicroMesh Gutter Guard's convex screen design readily sheds debris; this critical design feature sustains performance and keeps gutters free-flowing. It is made from durable aluminum material and coated with an industrial paint system to preserve the finish. Micro Mesh Gutter Guard meets the demand of every contractor and building owner.
Price installed: $10.00/linear foot
---

Gutter Downspout Guards, Caps or Strainers
A downspout cap prevents clogged downspouts and drainpipes. Fits both square and round downspouts. We highly recommend these caps if your downspouts connect to underground draining system.
Price installed: $15.00/piece
---
Local Gutter Cleaning Services You Can Count On
My Window Washing has been providing affordable and professional gutter cleaning services for more than 20 years, and we don't plan on stopping anytime soon. Whether you need us to clear your gutter downspouts or install gutter guards, our pro gutter cleaners are fully equipped to fulfill all of your home's unique needs. Let us know if you need gutters cleaned near the following IL communities, and we will help you keep them in tip-top shape year-round at your request:
Chicago
Cook County
Lake County
DuPage County
Will County
McHenry County
Contact us today to schedule an appointment for gutter cleaning, window washing or power washing. And don't forget to visit our coupons page to find out what discounts are available.