Gutter cleaning is an unsung hero that's crucial to keeping your property in good condition all year long. Rain gutters help protect your house from serious water damage, but if they're not cleared out and leaves build up in the fall, they're more likely to damage your home than preserve it. You may even have to deal with serious maintenance issues come spring if you don't perform an autumn gutter cleaning.
Still not convinced you to need fall gutter cleaning services this year? Here's everything you should know about gutter cleaning, including more on why it's so important and how to get the job done.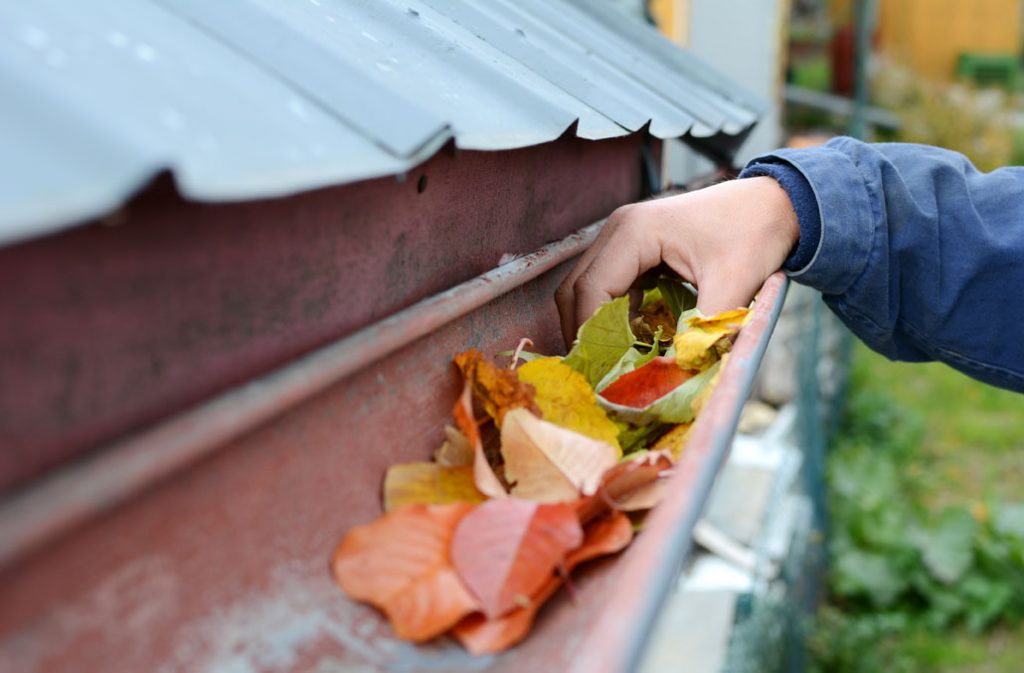 How Your Gutters Work and Why They Matter
Gutters are the guards that keep your home from rain and water damage. They're designed to transport rainwater from your roof and drain the water to the ground through a spout. Then, the water is directed away from the property, and onto the lawn, so it doesn't pool near the basement and foundation. Without gutters, water would pool on your roof and lead to mold, rot, and deterioration of your roof shingles, fascia, walls, etc.
When you choose to bring in a gutter cleaner for annual fall cleanup, you're investing in the longevity of your property and minimizing the risk of extensive damage in a few years.
How To Tell If Your Gutters Are In Shape
If your gutters are clogged with debris, you may notice leaves and sticks poking out of them. You also can check to see if there is a lack of water drainage from the downspout. 
However, the fastest and most efficient way to tell if your gutters are in good shape is by calling in the pros. Gutter cleaning companies will assess whether there has been damaged due to clogging and inform you if you need gutter cleaning services right away.
How To Keep Your Gutters Well Maintained
Want to prevent leaks in your home is to keep your gutters well maintained? You can hop on a ladder and clean out any debris that has built up over time. Ideally, it would be best if you cleaned your gutters twice a year in early fall and early spring to prepare for the seasons to come. However, the autumn clean is the most important. Autumn gutter cleaning clears out the pipes right in time for winter and prevents water from freezing inside. 
If you have trees around, it is good to keep them trimmed to prevent excess droppings of leaves, sticks, etc. Keep in mind that even if your trees are trim, wind can still carry unwanted gunk into your drains.
Another step you can take towards having your gutter cleaner than last year is regular roof repairs. If you have a loose shingle, it can end up right in your gutter and block the pathway for water to travel downward. Inspect your roof to see if your shingles are cracking or curling.
How Much Does Gutter Cleaning Cost?
If climbing up onto your roof to remove a bunch of debris, leaves, and sticks isn't your thing, or if it has been a while since your drains have been cleaned, you can always call for professional gutter cleaning services to get the job done right. 
Professional gutter cleaning costs between $80-$150 for a single-story 1,500 square-foot house. However, if you regularly use a gutter cleaner, it can save you thousands in damage repairs. According to Home Advisor, the average homeowner can spend up to $5,121 to restore or repair water damage. An autumn cleaning service isn't even a fraction of the cost to repair extensive damage down the road. 
Conclusion
Disregarding gutter maintenance can lead to more bills to repair your homes' water damage and even long-lasting health problems from mold and mildew. If you are confident in your ability to clean the gutters yourself, you can always climb up onto a ladder before the first snowfall. However, we think reaching out to professional gutter cleaning companies is the way to go. You'll save time spent clearing out these spaces on a fall day when you could be relaxing, and you'll guarantee a job well done.