Do you have a deck on your home, or are you thinking about having one built? This can really enhance your outdoor living space and add value to your home.
Having a deck professionally installed will run you about $31 a square foot. It's an excellent investment, but you'll want to make sure that you take good care of it so that it lasts for years. 
Proper deck maintenance is one of the best ways to enhance your wood deck's lifespan. Keep reading to learn more about the importance of power washing a deck and other important deck maintenance tips.
Pressure Wash Your Deck at Least Once a Year
It's vital to clean your deck at least once a year thoroughly. Power washing the wood acts as a natural exfoliant and helps the protective sealers seep even deeper into the wood, which protects the deck.
There are many benefits to power washing your deck. First, it helps to control microbes that allow mold and mildew to grow on your deck's wood. Doing this in the spring also rinses off any dirt and salt that has accumulated over the winter months.
It's essential to be careful with a pressure washer as a well-meaning, but inexperienced homeowners can accidentally gouge the wood with the intense water spray. If you're not 100 percent confident that you can do it yourself, consider hiring a professional.
The service is inexpensive, and it's worth the peace of mind in knowing that your deck is cleaned right and will last for years.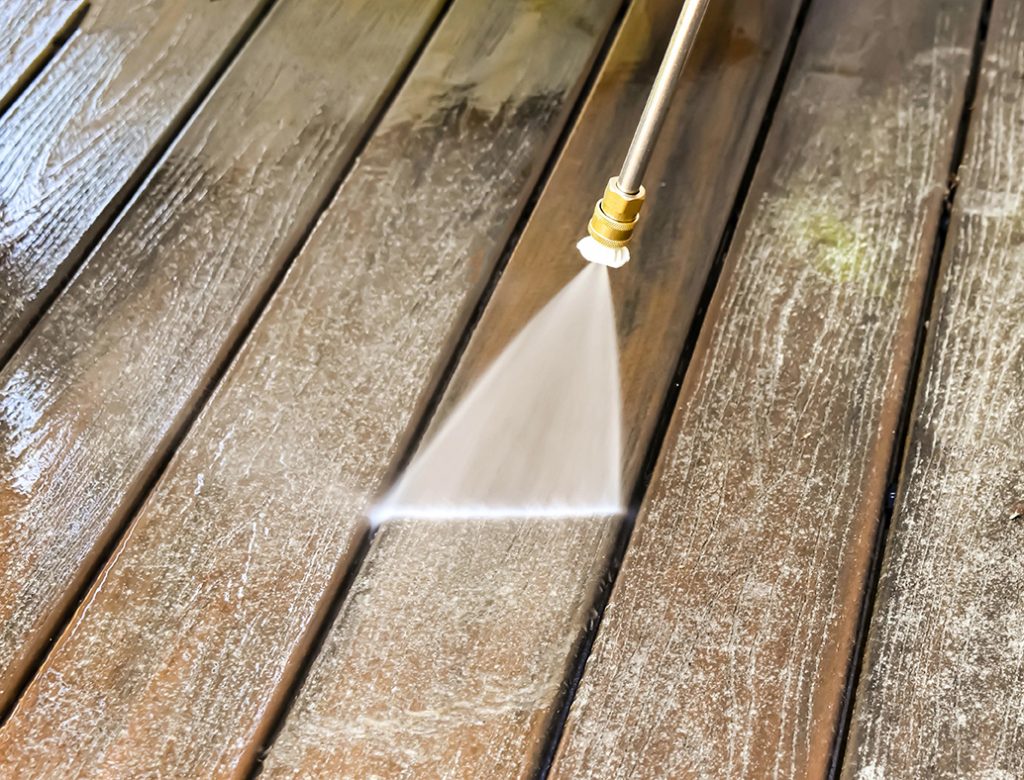 Sand Your Deck Before Sealing
Pressure washing is the best way to prepare your deck for sealing. 
After you've pressure washed your deck, you'll need to wait for it to completely dry. Sometimes, this can take as long as 48-hours. Once it's dry, you'll want to sand your deck lightly.
This is necessary to remove any splinters or fuzzy patches that pressure washing can cause.
The easiest way to do this is to use 80-grit sandpaper attached to a pole sander. Don't make the mistake of using a power sander, as this is overkill.
Choose the Right Sealant
Once the wood is prepared, you need to seal it. This will keep the wood from warping, cupping, or cracking.
A clear sealant is usually your best bet as this will last longer. You may choose a tinted sealant or stain, but if your deck gets a lot of foot traffic, then it will likely fade.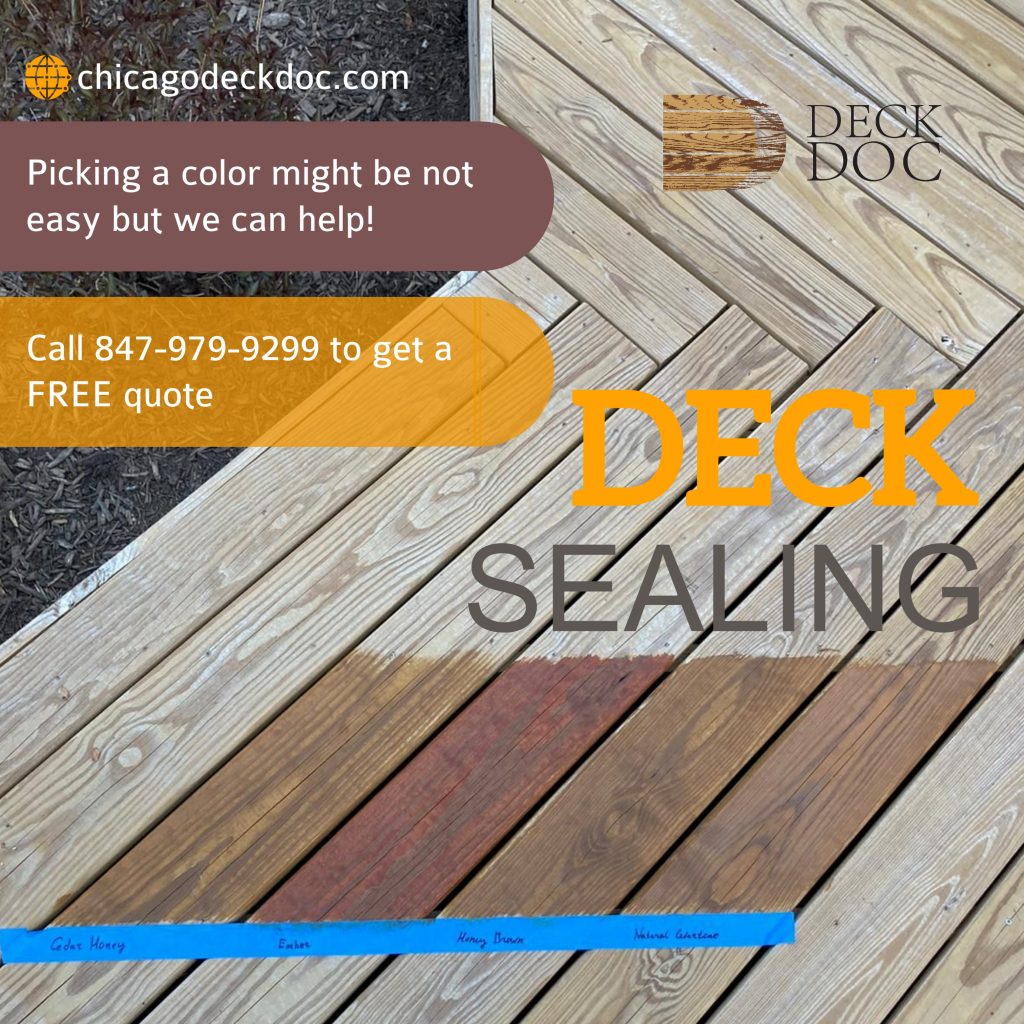 One mistake to avoid is using paint, lacquer, or varnish instead of sealer. The problem is that each of these just leaves a film on the wood rather than penetrating it. These finishes will look great when you first put them on, but as they wear, the peeling and cracking will look terrible.
It's also a good idea to opt for a synthetic sealant as oil-based products may attract algae and mildew. If you want your wood to look its best, choose a semi-transparent finish as this will add a bit of color and protect your deck from the sun's damaging UV rays.
Clean Your Deck Regularly
Your deck is constantly exposed to the elements, so it's important to regularly clean up leaves, branches, and debris that accumulates. Otherwise, they could rot and stain the wood.
Prevent water damage by using a large push broom to sweep off any water puddles after it rains and accumulated snow. If you get a lot of snow, gently clear it off with a plastic shovel.
Inspect the Deck Every Year
To make sure your deck lasts and looks great for as long as possible, you'll also want to inspect it at least once a year.
Many homeowners do a thorough inspection before they start their springtime deep cleaning and again in the autumn. This will help you stay on top of things and proactively take care of small issues before they become a bigger problem.
Check the entire area for loose nails, soft spots, or planks that are rotten or split. You'll also want to check the railings and other deck attachments to make sure they're secure.
If you notice anything that could cause a hazard, it's critical to fix it right away. Not only is there a good chance that the problem will only continue to get worse, but, some issues could also increase the chances that someone could get hurt.
Choose Your Deck Accessories Carefully
Adding some area rugs to your deck can give it a more comfortable and cozy feel and protect it from scrapes caused by chairs and table legs. However, natural materials like bamboo or jute can absorb moisture and encourage mildew growth.
Protect your deck by choosing area rugs made of recycled plastics. They don't absorb water and will also last longer.
Keep Up with Your Deck Maintenance
Now that you know how to take care of a deck, all you need to do is repeat the steps above as part of your regular home maintenance routine. This is important even if your deck is made of pressure-treated wood.
While the treatment will keep it from rotting or getting infested with insects, it's still vulnerable to sun and water damage. The only thing you'll need to do differently is to make sure you use cleaning and sealing products designed for pressure-treated wood.
Let Us Pressure Wash Your Deck for You!
Are you behind on your deck maintenance? We can take care of it for you!
We're fully licensed and insured and will pressure wash your deck to remove mold, mildew, and dirt. It's easy to schedule, just give us a call at 800-941-2790 or use our convenient form to book online.