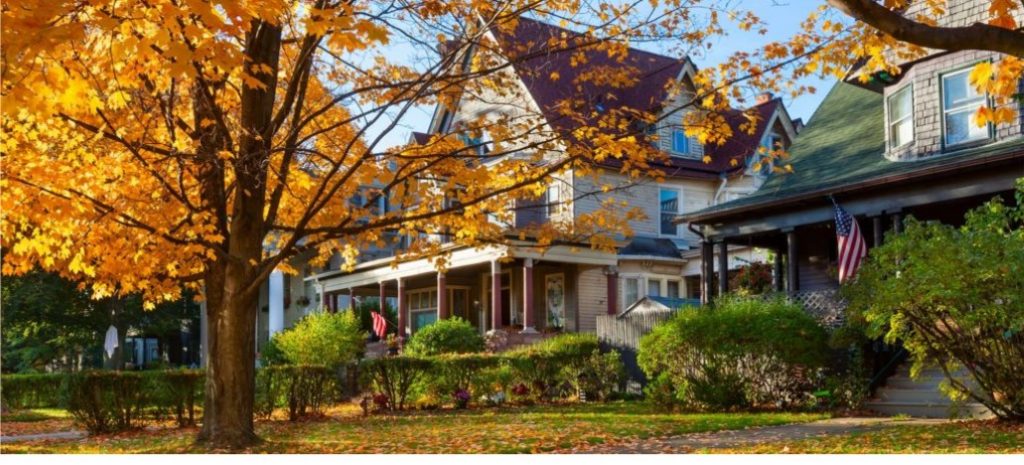 Yard Clean Up
Mow, rack and manicure your lawn to prepare it for its winter hibernation. This is also a good time to drain your water system, shut off outside facets, store hoses and other equipment.
Clean and Reverse Ceiling Fan Direction Fans that spin clockwise push the air down, keeping the room cool. Conversely fans that spin clockwise distribute warm air. To change directions, turn the fan and wait until blades come to a full stop, find the switch and change the direction.
Remove and Inspect Air-Conditioners
As the days get cooler, it is time to remove, inspect and store your air conditioner(s).
Clean Your Gutters and Downspouts
Experts recommend cleaning your home gutters twice a year- usually in the spring and fall. If you decide to do it yourself, make sure all drainage areas are unblocked and consider installing gutter guards. Gutter guards reduce the amount of gutter buildup, offering protection and leading to reduce gutter cleaning needs, particularly if your home is near trees.
Wash Windows and Screens
Wash windows and screens. Wash your windows inside and out to will help keep your home looking good. Also, clean windows will allow more energizing light into your living spaces, while providing a more enjoyable view.
Winterize Windows
Before the cold weather hits, set aside a day to replace your door and window screens with storm windows. This is also a good time to add weather stripping to doors and windows to help keep warn inside and prevent cool air from seeping inside.
Inspect Roof
It's important to check your roof for problems before cold weather hits. Check for loose shingles and make any necessary repairs before the late fall arrive.
Check Smoke Detectors
Replace the batteries in your home's smoke and vacuum them with a soft brush attachment.

Power Wash Deck, Siding and Other Surfaces
Spring and fall are the best times to clean your home's exterior surfaces.
Deck Cleaning and Inspection
Before the snow flies, it's smart to clean and inspect your deck for any issues including warped boards, cracks, rot, mold and mildew. You may also want to test the seal by sprinkling water on the boards. If the deck absorbs the liquid, it's time to reseal the deck.

Clean Dryer Vents and Exhaust Duct
Vents filled with dust and link present a house fire risk. Consequently, it's important to regularly clean fan vents, the dryer vent and exhaust duct.
Inspect Fireplace
To ensure your fireplace is safe for use this winter, look up inside it with a flashlight. Make sure the damper is free of any obstructions such as branches, leaves or bird nests, and that it opens and closes correctly.
Chimney Cleaning and Heating System Maintenance
Before the cold hits, ensure your home's furnace, boiler and/or chimney are properly cleaned and are functioning correctly before you use them. If necessary, hire professionals to conduct the inspections and cleanings.
Energy Audit
A savvy way to keep energy costs low is to hire a qualified energy auditor to evaluate the current level of your home's energy. Following the inspection, the auditor will make improvement recommendations which may include weather-stripping, Energy Star appliances, insulation and more.

My Window Washing offers professional and affordable window washing, gutter cleaning and power is washing services. Call 1.800.941.2790 to schedule your appointment.