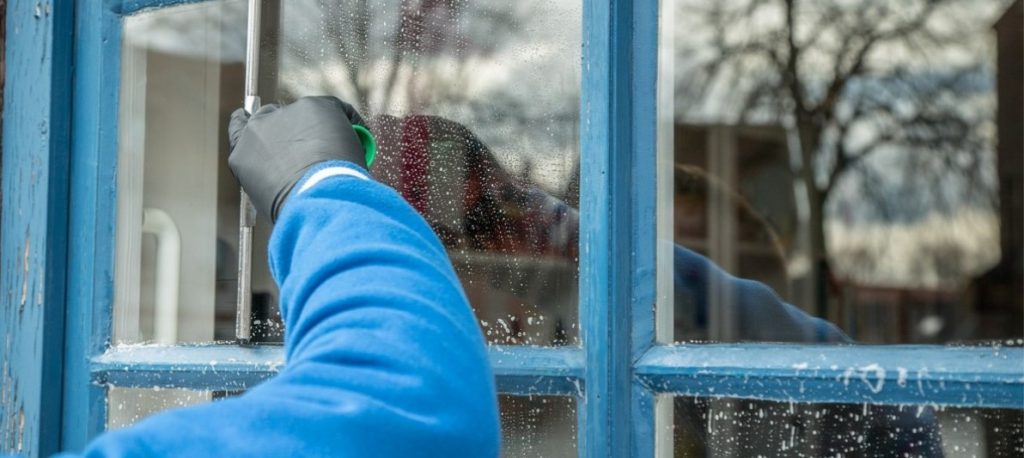 How to Keep Your Windows Clean During the Winter
Keeping windows clean during the winter months poses unique challenges, particularly when you add Chicagoland's bone chilling wind. Windows are subject to dirt, debris, and grime year-round, which can be harsh on glass. Also, who wants to look out of dirty, grimy windows- while waiting for Spring to arrive.

Select a Good Day
Select a suitable day for window cleaning and avoid days that very cold or when the wind is high. The best days to wash the windows in winter are when the temperatures are above freezing. Once you have chosen a day, it's important to clean your windows at the right time. Even during the winter months, you should always clean your windows in the shade to avoid streaks.
Assemble Supplies
Equipment
Gather a bucket, squeegee, extension pole, several towels and a sturdy ladder.
Hand Protection
Keep hands warm and protected by wearing water proof warm gloves or dish-washing rubber gloves over thin cotton or wool gloves.
Cleaning Solution
To help prevent water from freezing on windows, add some rubbing alcohol or car windshield washing liquid to warm water with some mild cleaning solution. Adjust the ratio according to the temperature.
Prepare Work Area
If necessary, clear show and any accumulated ice on the ground or around windows.
Prep Windows
Dry wipe windows and ledges before washing panes. Clean off dirt, dust, or debris on the surface and within groves. They tend to build up in the tracks and grooves, which can affect the window mechanisms that allow the window to open and close. Skipping this step can lead to a difficult muddy mess.
Water Temperature
Do not use hot water it can cause harm. Avoid cold water since it's difficult to work with under cold conditions and may free immediately. Warm water is the ideal temperature for cleaning winter windows.
If the temperatures are hovering at the freezing mark or have dipped below, add rubbing alcohol to the soap and water solution. alcohol. The rubbing alcohol will help keep the soapy water from freezing.
Cleaning Glass Pane Tips
• Work quickly to reduce the chance of freezing or frosting.
• With large windows, work in sections.
• Squeegee water from top to bottom; make sure to wipe blade after each swipe.
• Use new towels often to avoid freezing and limit streaks.
Hire Professionals
Homeowners can also forgo climbing ladders and washing cold windows by hiring professionals. My Window Washing offers year-round services. As an award-winning professional window washing company, the company has served residential and business customers throughout Chicagoland for over 15 years.