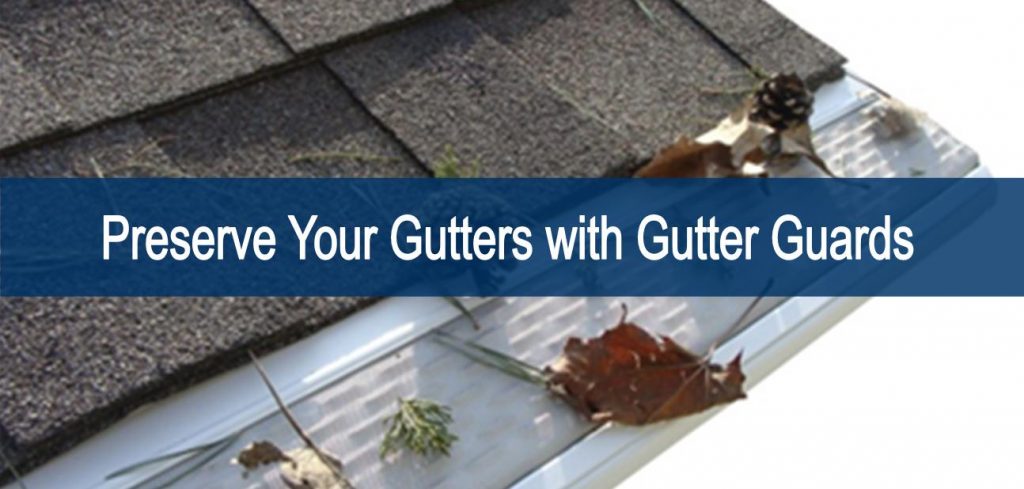 Preserve Your Gutters with Gutter Guards
Cleaning your gutters is an extremely important home maintenance task. Failing to regularly maintain your gutters can lead to unwanted and expensive problems down the road. Only a well functioning gutter system can protect your home from water damage. When gutters and downspouts are filled with debris and/or clogged, they do not perform correctly. Water can back up, become misdirected and damage your roof, basement, foundation, roof, fascia, soffits, paint and siding. Unfortunately, it is often difficult to spot the damage until it's too late. Consequently, Experts recommend a complete gutter cleaning at least twice a year: in the spring and fall.
Although rain gutters and downspouts are attached to the top of a house, a crucial part of the system is the bottom. This is because it can affect the impact of water on the home's foundation and it can also lead to unwanted mold and mildew.
It's important that a home's gutters be regularly cleaned and kept in tip-top shape. Gutter guards offer a savvy way to prevent gutter clogs. Good guards can successfully prevent dirt and debris from entering your gutters.
The solution to preventing gutter clogs is gutter guards. The use of gutter guards can effectively stop dirt and debris from getting into your gutters. The roof is the brain of the home and needs to stay protected at all times. Debris and dirt can damage a roof as easily as rainwater.
Gutter guards can be beneficial in the following ways to homeowners:
• Prevents Gutter Blockage
• Stops & Mildew Growth
• Save Monday and Time
• Reduce Maintenance Needs
• Reduce/Stop Rusting
Installing a gutter guard is a smart move. It can save homeowners significant time, effort, and money. With a guard attached to the gutters, there is no need to clean out the gutters every month or weekend.
Gutter guards eliminate large build-ups in rain gutters, helping to keep them clear, thereby saving you time, energy and money. Adding gutter guards is really a no brainier.
Based on twelve years of installing gutter guards, My Window Washing recommends and installs two types of gutter guards. They have found these guards to be top performers, easy to maintain and less expensive than similar products.
Plastic Guards with Mesh
Our recommend product keeps leaves and debris out of gutters. It is made of a high quality, rigid PVC and fits any K style aluminum, steel or plastic gutters. This snap-in gutter guard has a mesh filter bonded to the plastic. The filter is designed to keep smallest debris out of the gutter, helping to eliminate clogs. Also, it will not collapse under debris. This guard installs by snapping on to front edge of the gutter and comes in two different colors, dark brown and white.
Aluminum Micro Mesh Gutter Guards
The Micro Mesh Gutter Guard's convex screen design readily sheds debris; this critical design feature sustains performance and keep gutters free flowing.
It is made from durable aluminum material and coated with an industrial paint system to preserve the finish. Micro Mesh Gutter Guard meets the demand of every contractor and building owner.
Serving Chicagoland and surrounding suburbs, My Window Washing offers professional and affordable gutter cleaning and gutter guard installation services. Call 1.800.941.2790 for more information or to schedule an appointment.