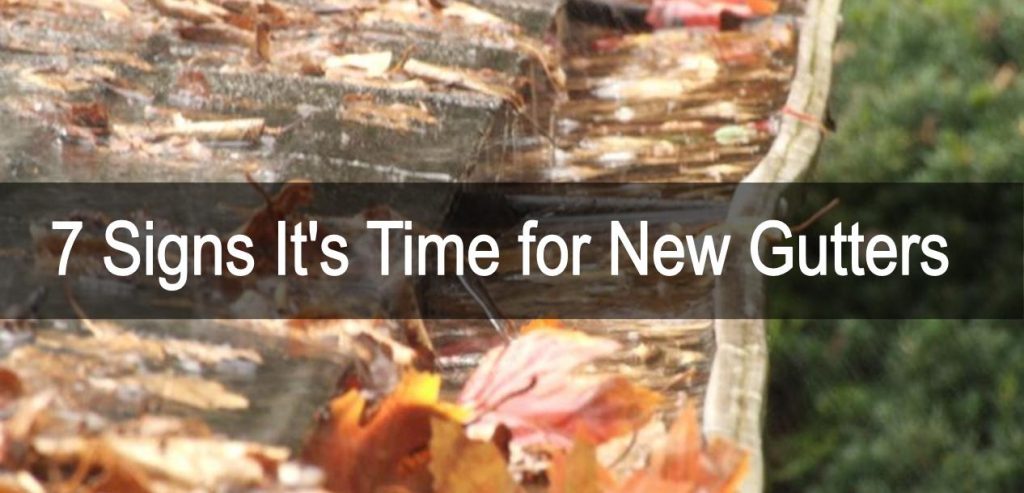 7 SIGNS IT'S TIME FOR NEW GUTTERS
Gutters play a vital role in protecting your home. A properly functioning gutter system protects your home from water damage. It efficiently drains water from the roof and funnels it away from your home. However, when the gutters and downspouts are clogged water can back up and damage the roof, fascia, soffits, and siding. Cleaning your gutters several times a year will enhance the longevity of your system. However, most will eventually need to be repaired or replaced. Following are seven signs to help you identify when it's time to replace your gutters.
1. Any Cracks or Splits
Initially, it may seem that small cracks in your gutter are not a problem. However, they can turn into big ones sooner than you may anticipate. These seemingly benign cracks allow the water to further damage your gutters, along with the fascia boards behind the gutters, your foundation and home's shingles.
2. Peeling Paint and/or Orange Flecks
The paint on your gutters is designed to withstand basic seasonal wear and tear. Peeling paint or orange flecks indicates the beginning stages of rust. This means water is present on a continuous basis and that it's not properly draining.
3. Water or Mildew Around Foundation
Gutters are designed to keep water flowing away from your home's foundation. If you notice pools of water or mildew near the foundation, this is an indication that your gutters aren't performing as intended. This could be caused by something as simple as a clog or by something as complex as a gutter system defect. Water can easily damage the foundation, leading to time-consuming and costly repairs.
4. Water Damage or Water Marks
Experts recommend that you check your gutters at least twice a year. Select a relatively sunny day, free from rain. Any water damage or marks underneath the gutter indicates that water is escaping.
5. Gutters Sag or Beginning to Pull Away
Gutters that sag or start to pull away from the home is an obvious sign that it's time to repair or replace your gutter. Most people can spot the issue without needing to climb a ladder. Your gutters should never sag or pull away from your home. If they do, it is because the gutters are dealing with the weight of water, which indicates the system is not draining properly or there is a blockage.
6. Several Broken Fasteners
Fasteners are the pieces of metal that hold your gutter to your roof and keep it level. If you notice frequent broken fasteners, the gutters themselves may be the issue.
7. Separated Gutters.
Gutter systems only function if they are fastened together in a continuous channel. If they begin separating from one another frequently, it may be time for a gutter replacement.
Would you like to hire professionals to clean out your gutters? Serving Chicagoland and surrounding suburbs, My Window Washing offers professional and affordable gutter cleaning services. Call 1.800.941.2790 for more information or to schedule an appointment.