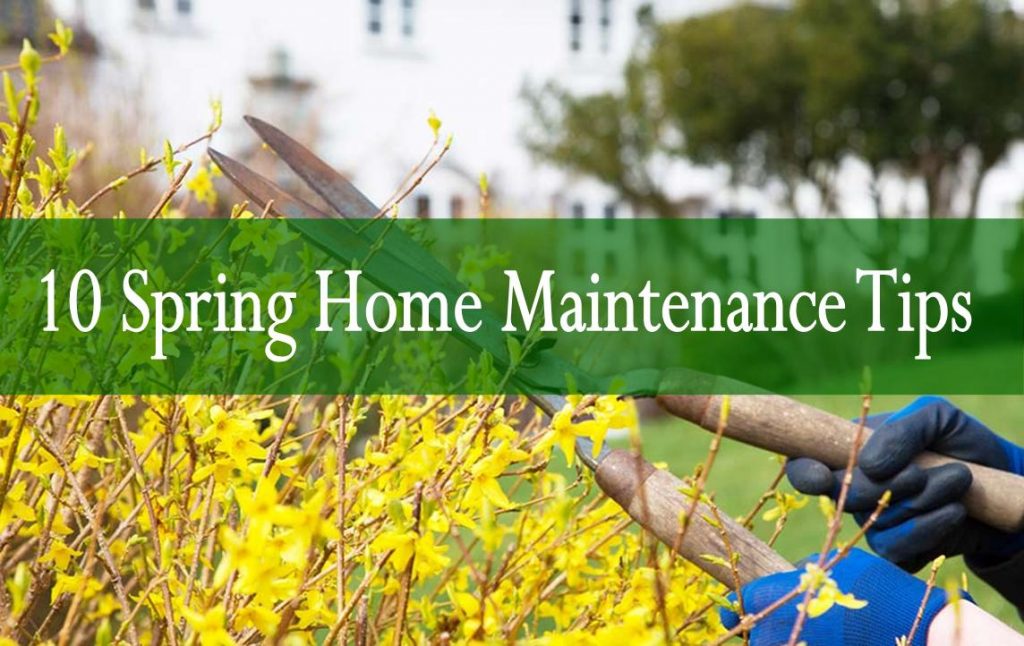 10 Spring Home Maintenance Tips
As winters leaves and the beautiful warmth of spring arrives, savvy homeowners often turn their attention to general home maintenance tasks. Here are twelve spring home maintenance tips.
Inspect Your Roof
Inspect your roof and examine shingles. Replace shingles that are cracked, buckled or loose.
Wash Windows and Examine Seals
Spring is a great time to wash all your windows, inside and out. Also, during this time, examine the seals and frames for any potential issues.
.
Check the Gutters
Check for any gutter issues. Loose or leaky gutters should be repaired to insure proper drainage, directing melting snow and rain from your roof and home. If water doesn't drain properly it can lead to unwanted and expensive water damage. In addition, make sure downspouts are clear and free of debris, and drain away from the foundation. If necessary, have your gutters professionally cleaned.
Clean Vents and Air Ducts
Take time to clean all your air vents and air ducts. This will help with air quality, energy efficiency and general overall home health conditions.
Replace Smoke Detector Batteries
Experts recommend replacing smoke detector batteries in the fall and spring. Along with changing the batteries, it's a good idea to test each detector to ensure it's working properly.
Clean or Replace HVAC Filters
Spring is a great time to clean or replace HVAC filters. Dirty filters will force your home's heat, ventilation and air-conditioning system to work harder, increasing your energy bill.
Yard Clean Up
Clean up yard debris (lose branches, leaves, ect). Cut back and trim all vegetation and overgrown bushes from structures.
Check Deck and Porches
Check all decks, patios, porches, stairs, and railings for loose members and deterioration. List and prioritize any needed repairs.

Clean and Repair Window Screens
For many homeowners, it's possible to keep your house cool in the summer by opening the windows (at least at night). After inspecting your screens, clean your them on a flat surface with soapy water. Patch any holes or replace the screen.
Pressure Wash Surfaces and Inspect
Pressure wash decks, driveways, fence and other outside surfaces. Subsequently, inspect services for any issues or damage. Clean siding with a pressure washer to keep mold from growing.
Some homeowners save time and money by hiring a professional company, such as My Window Washing, for window washing, gutter cleaning and pressure washing.